Well another month has come and gone! I hope everyone had a fun and safe Halloween! It sure was fun taking Maddie trick or treating. I will put up some pictures either this weekend or Monday. Today's post though is dedicated to introducing my readers to the blogs located on my sidebar! Don't be scared, read about them and give them a visit!
2013 was a year of change for Bekah, who started re•solve to chronicle her goals and progress as well as life in general. From vegetarian recipes to clean products and relationship talk, re•solve is a friendly smorgasbord of posts!
Savannah is a wife, mother of two little ladies, friend, kind of crazy and she doesn't like onions. She blogs about her life being a Mom and other random stuff!
Hi, I'm Rachelle! Welcome to my humble little blog. I'm a Kansas transplant to Houston, TX. The inner loop, to be specific. I love to explore the city with my crew – my husband Walt and two Labrador mixes, Hunter and Lucy. I started this blog to chronicle all the unique things to do and places to go in this city. I'm not always hitting the town though! I also run on the Rice & Memorial trails, gaze at the skyline from my balcony, tinker around in my craft room, and stroll with my crew along the ever-changing, ever-developing streets of my neighborhood.
My name is Crystal, I am a mom to one gorgeous girl and a leading lady to one fabulous man. I photography, read and blog by days away! My blog is about my journey through motherhood, with some of my favorite recipes, tips for any and everything and random musings!
MyPassionJourney.com is a place to explore and share about the things that make me feel excited about life. I write about anything from the most practical life tips to my favorite products and shopping finds, travel, healthy living or anything that happens to make me feel inspired that day. More than that I hope that readers find a place where they feel encouraged and empowered to purse their passions & dreams and to pass along their own inspiration as well.
Two years ago Jennifer fell in Love with a cowboy and ended up moving to Texas. Once there she rediscovered her love of creating and has been making things ever since. Mostly crocheted or hand embroidered, goodies from Homespun Happiness are created to bring a smile to your face and hope to the hearts of women in Romania! 25% of every sale goes to help support a womens rescue in Bucharest, Romania. Jennifer loves blogging (busybeingjennifer.com) crocheting, quilting, stitching, sewing reading, and snuggling with her 2 kittens and handsome hubby.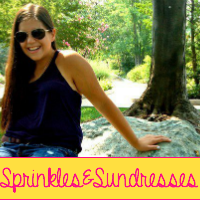 Hi I'm Jenny! I'm a sophomore in college who transferred to a new school this year. I write about that experience, and pretty much anything I feel like! I love to bake, watch netflix, and hang out with my family. Sometimes you'll see recipes but most of the time you'll find my day to day adventures! I called my blog Sprinkles & Sundresses because I believe that rainbow sprinkles make (almost) anything better and sundress season is my favorite season. Come say hi!
So now that you know about the featured blogs, go check them out and say hi!
Much love,