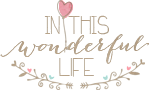 This is my second mid week random and I love it!
So on Monday I took a spur of the moment trip to my parents house with Maddie Bug in tow and it was quite the surprise! It is so great to see them since visits are not as often as I would like
Maddie got some new toys! Had to get her something to chew on for her teething! Can't wait for those little teeth to come in!!
So in about 2 weeks Justin and I will be going on vacation! We will be going to Austin, Tx. We are taking a much needed break from parenthood and work. We are desperately needing some US time since we haven't really had any since Maddie has been born!
My sister made these amazing blueberry muffins with cinnamon toppings! They were so delicious and I wish I had a picture to document it!
Tonight I am making enchiladas! Something quick and simple since I just got home from my parents house
I'm thinking of putting up a recipe for zucchini cake! I'm really craving it and want to bake! This dessert is seriously TO DIE FOR!!
I have been very frustrated with Tarleton financial aid since they decided to lose my paperwork that I faxed to them. School starts in two weeks and I still have no clue if I will have enough financial aid!
And here is another darling pic of Maddie Bug from the trip to my parents
Much love from Maddie Bug And I XOXO